Your school can bring an international dimension to your work and your pupils' learning through Erasmus+ School Partnerships.
Erasmus+ facilitates schools to establish short-term and long-term pupil and staff exchange projects. The main goals of Erasmus+ School Exchange Partnerships are to:
empower schools to work in international projects that benefit their staff and pupils
broaden opportunities for pupils and staff to learn and collaborate with peers through 'mobility projects' in other countries
strengthen international cooperation in education through physical exchanges as well as virtual ones on the eTwinning platform.
Erasmus+ has helped us to make our school a real "Changemaker", making a real difference in the lives of our pupils and the community we serve

Liz Mulry, Eglish NS, Galway
Opportunities for pupils
Your pupils can participate in either short-term or long-term exchanges.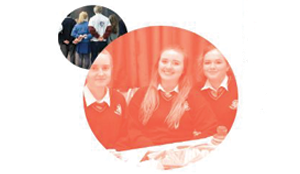 Short-term exchange of groups of pupils (3 days to 2 months)

Pupils from different countries can work together in activities linked to the aims of the partnership. The short-term exchange activities are designed to offer international learning experiences to pupils, to develop their understanding of the diversity of European cultures and languages, and to help them acquire social, civic and intercultural competences necessary for their personal development.
Long-term mobility of pupils (2 to 12 months)

Pupils aged 14 or over can spend a period of time in a receiving school and a host family abroad. The sending and hosting schools are expected to ensure high quality learning outcomes, to provide appropriate recognition for the involved pupils, and to constantly support them during their mobility period. Applicants for School Exchange Partnerships may focus entirely on the organisation of long-term pupil mobility as a tool to develop the international cooperation potential of the involved schools.
Anybody who doesn't grab the Erasmus+ opportunity is crazy. It's a no-brainer.

Alex O'Mahony, Holy Spirit BNS, Ballymun
Opportunities for school staff
Short-term joint staff training events (3 days to 2 months)

Teaching and non-teaching staff can work together to exchange experience and know-how, or receive joint training.
Long-term teaching or training assignments (2 to 12 months)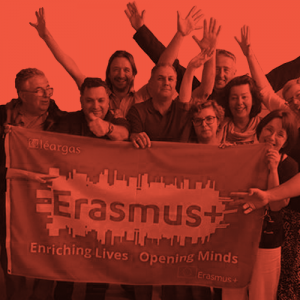 Erasmus+ gives staff the opportunity to develop their knowledge and understanding of other countries' education and training systems, and helps them share and acquire professional competences, methods and practices.
Erasmus+ Priorities
Projects funded under Erasmus+ should address either:
one of the horizontal priorities listed below or
at least one specific priority relevant to the field of School Education listed below.
Horizontal Priorities

Supporting Individuals in acquiring and developing basic skills and key competences
Social Inclusion
Open education and innovative practices in a digital era
Supporting Educators
Transparency and recognition of skills and qualifications
Sustainable investment, quality and efficiency, training and youth systems
Social and educational value of European Cultural Heritage, its contribution to job creation, economic growth & social cohesion.
School Education Priorities

Strengthening the profile(s) of the teaching professions
Promoting a comprehensive approach to language teaching & learning, building on the increasing language diversity in schools
Tackling early school leaving and disadvantage
Increasing access to affordable and high quality early Childhood Education and Care (ECEC)
Building capacity for organisation and recognition of learning periods abroad.
To find out more about Erasmus+ School Partnerships get in touch with the Léargas team today!